To run a successful auto body shop, you know it takes a lot of time and effort. However, most shops rely on the same paint booth drying that hasn't evolved once over the last 100 years. And sure, while traditional methods work well enough, the auto body shop of today isn't the same as it was even just 10 years ago.
One of the biggest things impacting your shop's profit is time. And the largest factor that impacts time is efficiency. You can't really look at one without thinking about the other. So, while traditional paint booth bake cycles work, they're far from the fastest and most efficient options out there. Honestly, how much more money would your shop make if you could have even just two more cars come through a day? We're sure the answer is quite a bit.
You're likely familiar with electric infrared or convection drying, but have you heard the buzz surrounding gas catalytic drying lately? It's a technology that started in Italy, grew in popularity across Europe, and is now making its way into the U.S. It's a paint drying technology using methane or propane gas to create and send out medium wavelengths to heat and cure a car's paint without passing through to the metal, or plastic. This keeps the heat equally spread across the paint and nothing else.
How Gas Catalytic Drying Can Save You Time
Gas catalytic drying is the best option out there. But we know saying that isn't enough for you as an auto body shop owner. To break it down, we'll look at how much time traditional bake cycles take in comparison to gas catalytic drying.
Gas Catalytic Drying, Electric Infrared Drying, And Convection Drying Paint Booth Bake Cycles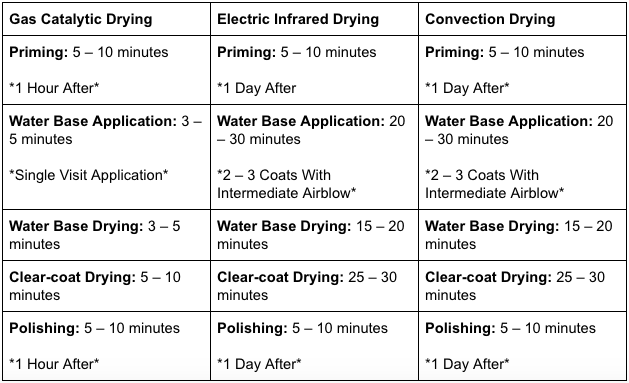 As you can see, gas catalytic drying is the most cost-effective and efficient drying out there. You have less risk of downtime than with conventional paint booth options. You can even get in those extra cars we talked about earlier– making you more money in the process.
Gascat Dryers
Gascat Dryers provide you the best, fastest, and most efficient drying solutions out on the market. We believe that time is money. And with this advanced drying system, your business will reliably process more vehicles each and every day.
Let us help you save time and streamline your paint booth drying processes. Contact us today!