In a world of increasing ADAS implementation, we are going to have fewer cars to repair due to fewer car accidents. That means fewer cars to fix and is a possibility that can keep any auto body shop owner up at night.
CCC releases frequency trends every couple of months, and the numbers seem to always be in decline. What does that mean for repairers? It means fewer cars to fix each month as vehicles get into accidents less frequently. So then, what does a shop owner do to get ahead of these trends?
All the ADAS systems in the world will not be able to prevent the small mishaps that occur in everyday life. Bumps and scrapes and minor damages are the kinds of things that happen in parking lots and garages all across the country every day.
ADAS systems will never be able to prevent the surprises that mother nature sends our way, either. Hailstorms and deer hits will forever be a revenue producer for body shops. Many of these jobs will be customer pay.
As a production shop, you may have tried to stay away from this work. The profit was just never enough to justify clogging up your system — too many estimates written for tire kickers, and too many nit-picky customers.
The answer to this problem is to find a way to make more profit from smaller jobs. You need to be able to fix them without clogging up your system, and even welcoming the smaller jobs into your shop.
The secret to success is to add a fast-lane to your shop.
What exactly is a body shop fast-lane?
This fast-lane is an area of your shop dedicated to repairs that get completed while a customer waits. Typically, these are quick hit repairs where panels get repaired off the car, then re-installed once they come out of paint. These could be repairable panels, OEM or aftermarket panels, or even LKQ salvage panels like hoods and doors. The key is that the panels move through the shop, not the car.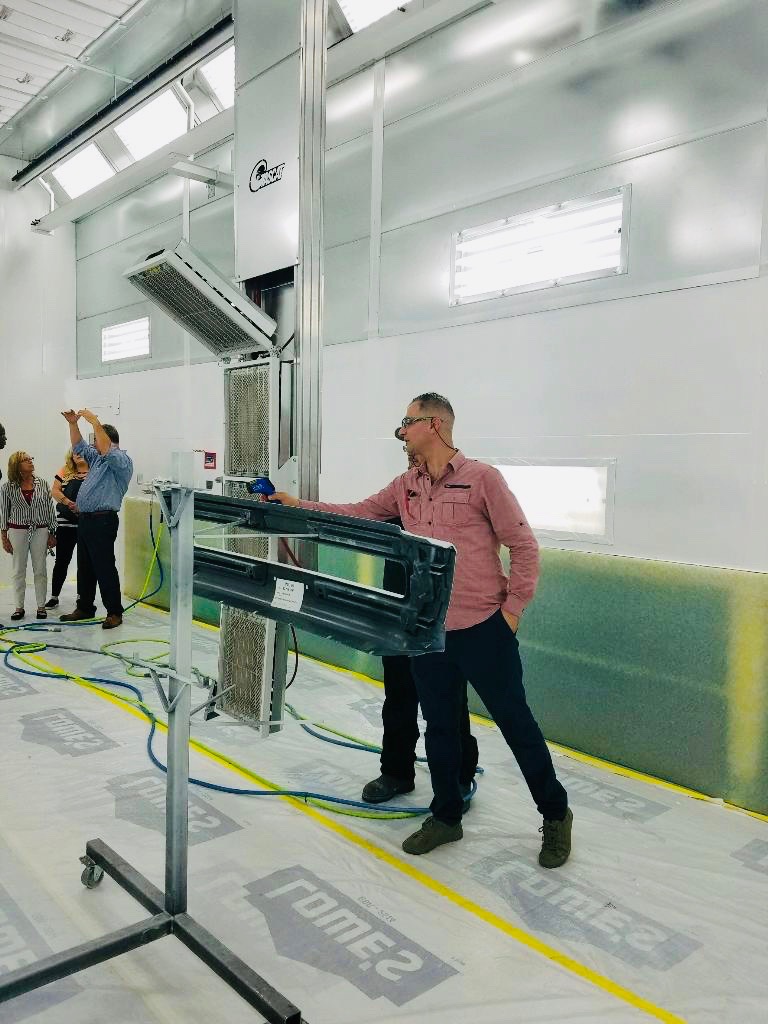 Shops in Europe and in heavy hail areas such as Colorado have been doing this for quite some time and achieved great success. The key to profitability is efficiency in repair and painting. This profitability means eliminating as much downtime as possible such as waiting for paint to dry. You must cut all wasted time from the process.
Space needed for a quick lane
The beauty of adding a quick-lane to your shop is that you don't need an area any more extensive than a tear-down/blueprint bay. The car does not need to move through the shop; only the panels do. Imagine how many bumpers, doors, hoods, and decklids, you can squeeze into a prep deck. That's how many quick-lane cars you can fix simultaneously. Imagine the profit!
Staffing a quick lane
Depending on how much work you can send through your quick-lane, you may need additional assembly/reassembly staff. You may need to add more painter's helpers or maybe even an additional painter. If you want to extend your quick lane to handle damages requiring a little body filler work, you may also need an additional body tech. The benefit is that you can free up your A-techs to manage the bigger jobs that turn more hours.
Equipment needed for a fast lane
You will need auto body carts to manage the smaller panels. These carts are mobile and can be custom equipped or even custom built to suit your needs. They feature fixtures and padding to contain painted parts like doors and fenders safely and also trays also trays to retain bolts clips and fasteners. The recommendation is that each technician has three to four carts at their disposal.
Speed drying equipment is a requirement
Finally, the piece of equipment that makes the whole Fast lane work is a catalytic dryer. This equipment could be an electric or a gas catalytic dryer. There are distinct advantages of using a gas catalytic dryer over an electric IR dryer. First of all, gas catalytic dryers are far more energy-efficient than electric IR dryers.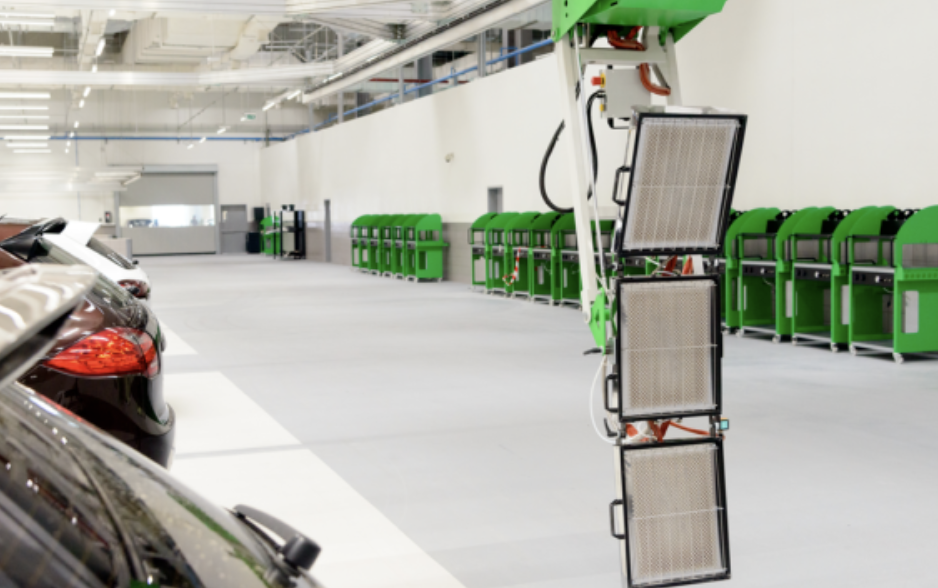 Second, the gas catalytic IR wavelength is superior to the electric IR wavelength in that the gas catalytic is a medium IR wavelength. Medium wavelengths can cure the paint and materials on the panel before they heat the panel, unlike electric, which produces a short IR wavelength. The shorter wavelength heats the metal first, then heats the paint from the surface out. This situation can create curing issues such as solvent popping and other curing issues.
The reason that a speed dryer is a requirement for the fast lane to work is you need to have the ability to move jobs through in four hours or less. This speed is not possible with conventional bake cycles in a paint booth. This condition is especially true in a shop with a paint booth used for larger multi-panel jobs that require the entire paint booth bake cycle to complete. Catalytic drying equipment allows you to complete the painting in the paint booth faster, and you can even fit multiple jobs in the paint booth at the same time.
Want to discuss fast-lanes at your shop? Click below to get connected to a Gascat distributor in your town.
{{cta('2a50ee1e-8b36-45b3-ad6d-00f1ff5da8ad')}}