Reduce cycle time in your heavy duty truck repair shop with gas catalytic dryers.
Turning a couple of million in revenue out of a 6,000 square foot shop is not a real headline-grabbing statistic in the auto body world. But doing a couple million in revenue in a 6,000 -square foot heavy-duty collision repair shop is a marvel of efficiency. Trucks are big, they are heavy, and their large turning radiuses make them tough to move around a shop. But it can be done and has been done before. The key is mastering workflow and increasing throughput.
To keep the HD collision repair flowing through a shop of any size takes careful planning, workflow and a paint department that can keep the beat of the shop going. Trucks can't sit for too long without moving through the process, or else everything gets jammed up quickly.
Unlike cars, which are built for aesthetics as well as function, trucks are purpose built. Heavy-Duty trucks also don't get damaged the same way a car does in a collision. Whether you fix coach style RV's, semi's or dump trucks built for mining operations, how often do you do a full respray on a commercial truck?
Here is where a paint operation built for size, speed and spot jobs can help you turn those dollars fast with minimal square footage. Gas Catalytic drying could be your solution.
Gas Catalytic drying is not a new technology. It is used regularly in Europe where efficiency is essential and square footage is at a premium. The technology has made its way to the United States, but body shops are still slow to adopt its use because the old way is getting them by, and the desire to try new techniques isn't there yet.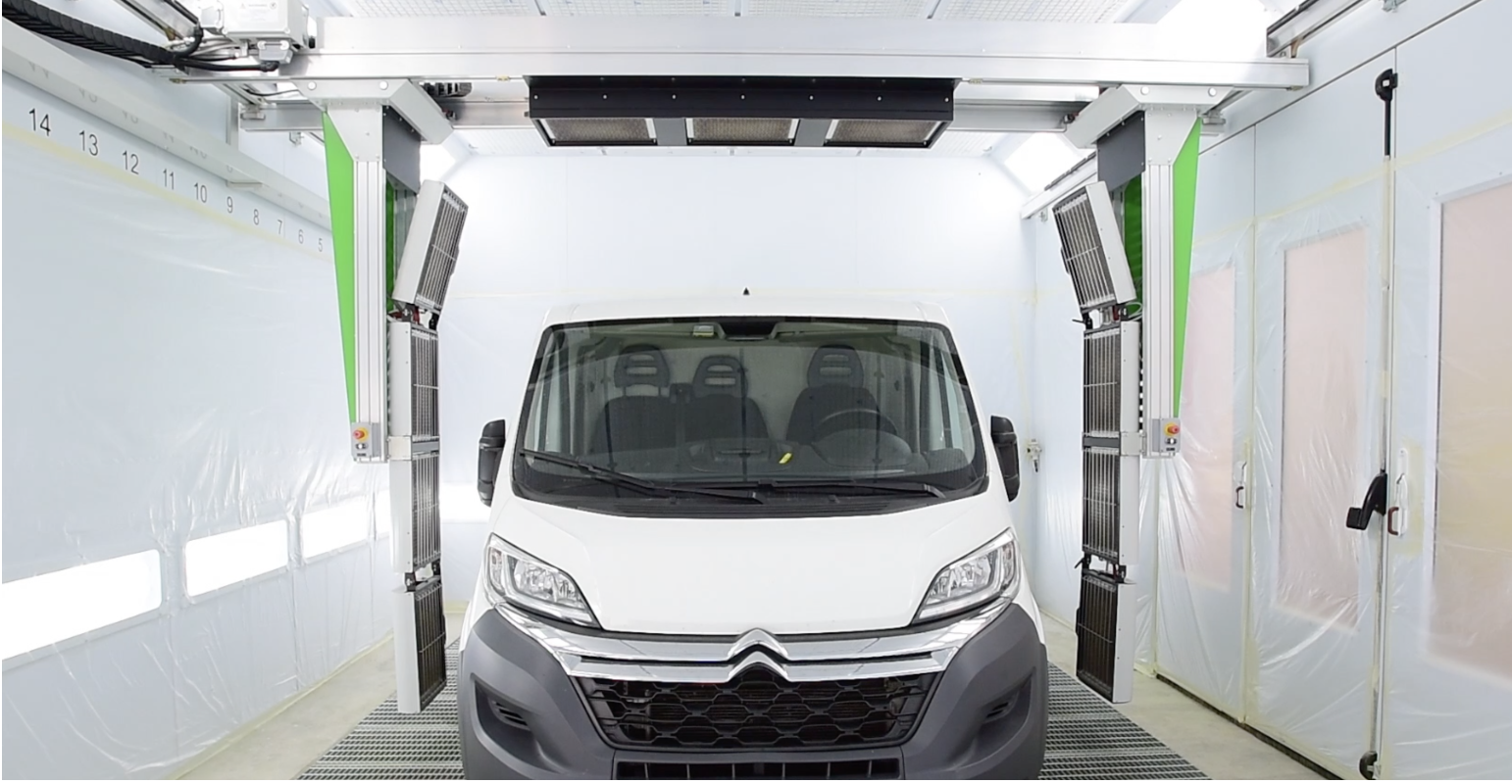 What could it do for your HD collision repair throughput if you could eliminate the bake cycle on every truck in the booth, every single time?
That is precisely what gas catalytic drying can do for your heavy-duty truck collision repair shop. This equipment cures paint material such as filler, primer, base, and clear coat within a few minutes of application. There's no baking, curing, or soft paint issues. And you can use a polisher the moment you back a vehicle out of the booth.
Just think about all the time that's wasted every day in your shop waiting for materials to dry and cure. And think about all the time spent by technicians who could be on to the next truck if you had gas catalytic drying.
How HD Collision Repair gas catalytic drying works
You may be familiar with infrared drying. Gas catalytic is a form of infrared drying, but it uses natural or LP gas instead of electric energy to create the IR wavelength. Even though it is gas powered, it is explosion proof, uses no open flame, and uses significantly less energy as compared to electric systems.
Gas catalytic drying also puts out a different wavelength of infrared energy as compared to electric Infrared. This causes the materials to cure harder faster, resulting in a better and flatter finish. Also, the underlaying substrate heats up less compared to electric infrared, thus eliminating most issues commonly associated with unique substrates such as carbon fiber, fiberglass, aluminum, etc.
Size no longer matters for Gas Catalytic Drying.
Size used to be a limiting factor for Gas catalytic units in heavy-duty collision repair shops as the arches inherent to the design were too small to handle commercial vehicles more extensive than a sprinter van. Gascat Dryers has just released two new models, the E8 and E9 that are tall enough to handle nearly any size vehicle.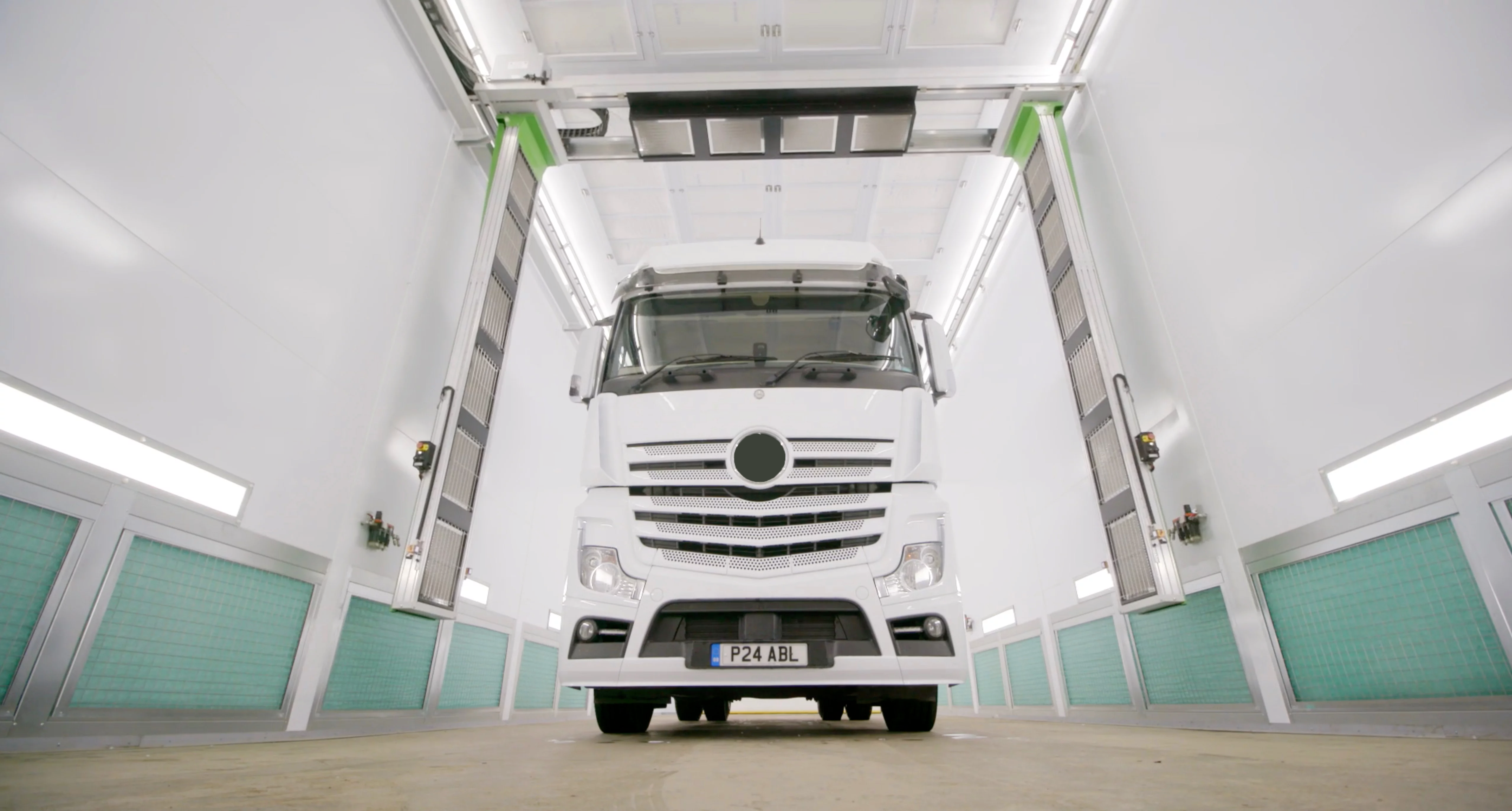 So, if you are looking to turn more work without out increasing the footprint of your existing shop, talk to us about getting a gas catalytic drying demo, and a quote for your heavy-duty truck collision repair shop.
Want to learn more? Contact us with the button below:
{{cta('2a50ee1e-8b36-45b3-ad6d-00f1ff5da8ad')}}